OK, so last time it was Brigitte Bardot, Bill Haley, a broken-nosed bodyguard with two missing fingers, Henry Miller and – a pussy cat … and all this in a stained glass studio?
So how do I follow that?
I see that David – my fellow director and master glass painter – has left me with one Hell of a cliff-hanger.
Which gives me an idea for your next video demonstration …
One Hell of a cliff-hanger
Yes, speaking of Hell, if you had visited the studio this week, you'd have witnessed the birth of eight ferocious stained glass beasts.
All born to meet the tycoon's contract.
Remember our commission is to design and make 16 ancient-looking stained glass skylights by September. (Or else, we suspect, a "deadline" will mean exactly that.)
And, to be specific, four of them contain dark inscriptions in the Gothic style, and four of them commemorate the Seasons.
Which leaves eight of them to represent the tycoon's bestiary.
Each skylight must be made to look original, time-worn and – original.
Nothing new," said the tycoon.

Or else!" growled his bodyguard.
So thank goodness for the medium-grade sandpaper with which, after tack-firing, David then distressed the traced lines:
And thank goodness for the many joys of oil …
Lastly, thank goodness for the subtlety of oil-based silver stain:
Which leaves the tantalising question: did the silver stain succeed? You know how unpredictable stain is.
The eighth beast
Ladies and Gentlemen, fellow glass painters: get out your popcorn, settle back in your comfortable seats, turn on your speakers, and – hit the Play button.
With eight beasts prowling around the studio this week, you can see why we weren't answering the phone …
Five days. Eight beasts from start to finish. A long, hard week. And now it's done.
Best,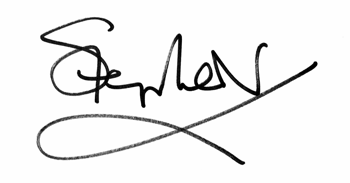 P.S. Does a many-headed beast "beat" Brigitte Bardot? I'll not be so divisive as to ask you to vote on it. I'll just pass the "unseen mystery" of the publisher's sitting room windows back into David's trusty hands for next time. Or whenever (because we do so like to keep you guessing).
Do you like this article and video?
Then don't miss the others – join our newsletter and we'll email you when new articles or tips appear: