In my last post I gave you 9 tips for keeping a steady hand when tracing, or – "How to stop the wobbles".
The last tip was, not too much wine. (Well, none at all is best.) Which reminds me how David's been teetotal for 30 years. Not a single drop. Thankfully, that's not the secret of his amazing skill, though as I say, you'll definitely paint better when you're "dry".
No, other things also count – like your painting bridge and how you treat it.
Love your painting bridge as if your life depended on it
Let me put it to you like this. Suppose you need a ladder to do an important job. You'll take time to think where best to place it. You'll also check it several times to make sure it's stable.
OK, that's also how you should think about your bridge.
Now I know you won't break your neck if you get it wrong.
It's just that if you get it wrong, I promise you you will not paint the stroke you want to paint.
But here's what often happens when we trace: we fixate on the stroke itself – on what we want to do.
And actually you have to fixate on the context – on whatever allows you to get it right.
The bridge – is part of the context.
Your bridge is a tool
Yes, a tool.
But most people don't think of it like this.
They think, like:
It feels awkward, I wish I didn't have to use it
And also:
I'm not really sure what I should be doing with this but other glass painters use it so I suppose I should as well …
No, most people don't consider the bridge a tool. They pretty much overlook it, or think of it as an uncomfortable necessity.
But here's what master glass painters quietly know: they know they must resist the temptation to rush forward to the brush-stroke.
And if that's new to you, then that's what you must also do.
Before each stroke, take 10 seconds to consider: is the bridge in the right position?
All right, so what happens when I move it a little bit this way or a tiny bit that way?
You'll be amazed how just moving it 10 degrees can make such a huge difference.
You'll also find it helps to reflect for a moment on how the bridge is there to guide you.
So put it exactly where you want it: really take time to consider where you want it. Also check it's stable. Get in the habit of doing this every time you paint a stroke.
Every time.
Yes, it's second-nature to me and David. And repetition and constant practice will also make it second-nature to you. Imagine how that'll improve your painting: and isn't that worth aiming for?
All the best,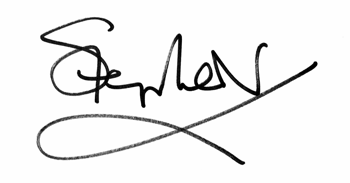 P.S. I've got a lot of time for Maurice de Vlaminck, not least because he said how "Visiting museums bastardizes your personality just as hobnobbing with priests makes you lose your faith" … (Self-serving and self-important curators of the world, wake up and listen. Is the museum a way to improve your C.V., or is it there to nourish our soul?)
But last weekend we visited not one but two museums which restored our faith.
The first was the breath-taking Van Gogh museum in Amsterdam.
The second one was smaller but vividly inspiring: the museum of flat glass and enamel art in Ravenstein, where we were given a very warm welcome by Mr Jan Klink, the founder and director.
We saw both museums as guests of PELI Glass who had invited us to the Netherlands to give a whip-cracking five-hour seminar called "Fire less, paint better".
One glass painter said she'd waited 20 years to learn what we had taught her in just one day.
So when I say you must pay attention to your bridge, this is not about me, it's valuable advice.